Sewing last summer was a dream. I had begun to sew my own clothes and happened into this wonderful blogging community and so enjoyed
Zoe's first Me-Made-May
that I wanted to continue to be part of this community. The first Summer Essentials Sew-Along was born. The idea was simple: Make five-ish things that you'd rather not live without this summer.
To say I was blown away by the response is an understatement. 70 members from across the globe uploaded nearly 330 images into
last year's Flickr group
(find a link to our *new* one below) of their in-progress and finished stylin' summer wears. For me, these women—
you
—brought homemade to a whole new level, creating garments that made the gamine-in-me weak in the knees.
Some used vintage patterns, others self-drafted patterns. Some of us attacked the very thing we were afraid of. For me, that was the
retro-inspired swimsuit, BurdsStyle's Alison
. And there was so much diversity in the styles, giving me the courage to try new things. Though I only committed to 5-ish garments, I was never so productive:
I whipped up 14 garments
. Several were duds, but all created with the incredible rallying of this community and it made me a better sewer.
So what do you say? Can we do this again? As my life's changed considerably since last year, I've recruited the incredible and talented
Sarah of Rhinestones and Telephones
outside of Toronto (don't we all love Canadians?) and
Alessa of Farben-freude
of Berlin (I've a yen for that city!) as co-hosts. Sarah is brilliant at mixing her sewing plans with the larger community—stay tuned for what she has in store for us this summer! And Alessa and I attacked knits last summer and she's been rockin' the Colette Crepe like no one's business. Please join us. :)
Below you'll find out about the sew-along, badges for your blog and a link to the Flickr group that's the virtual home of this year's Summer Essentials Sew-Along.
ABOUT THE SEW-ALONG
In an effort to be as laid back as summer heat inspires, the Summer Essentials Sew-Along asks participants to sew five(-ish) warm-weather friendly pieces by August(-ish), 'cause wouldn't you rather spend August looking fabulous in your homemade threads? The goal: Stock your closet with quality summer basics. The benefit: A group of sewers who will encourage and inspire you, not to mention talk you off the ledge when you need it!
To me, there are six categories of summer wear. Feel free to add to this, but this is just to start us thinking of what you need/want.
Poolside Pretties:
Anything that cools or dries you off when there's lots of sun and water around. One and two-piece swimsuits, swimsuit cover-ups, surf shorts, sun hats, oh my! One versatile swimsuit cover-up I find lovely is a terry cloth dress. Double-duty, that's what I'm talking about.
Clam Diggers & Co.:
Bifurcated bottoms of every style and length, from flowing linen pants to short-shorts and all the inbetweens—clam diggers, pedal pushers, Bermuda shorts, etc.
Sweet & Sassy Skirts:
Prints and solids, short and long, low-slung and high-waisted. But most of all: Airy, flirty, flattering.
The Sundress:
Need I say more? To me, the perfect sun dress strikes that cord between casual and elegant—arms and collarbones, looking good barefoot or high-heeled. It's something you can wear to both a barbecue and a summer wedding.
Tees, Tunics & Blouses:
Yes, please! I'm finally understanding the worth of blouses as they also strike that balance between casual/formal, totally versatile. I'm also thinking mini-dresses that do triple duty as tunics, dresses and cover-ups.
Those Summer Nights:
Pullovers, cardis and hoodies may be the last thing you're thinking of with the mercury rising, but there's those cool summer nights, not to mention every last establishment with the air con blasting. Or: for those of you where thunderstorms are a daily summer experience, a lightweight trench?
BADGES FOR YOUR BLOG
Thanks, Sarah, for creating these!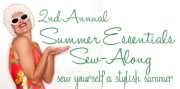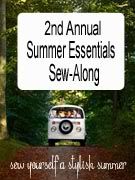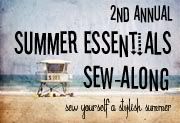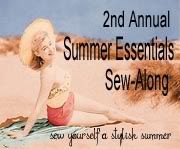 OUR FABULOUS FLICKR GROUP
http://www.flickr.com/groups/summeressentialssewalong2011/

(Thanks, Alessa, for setting it up!)
We'll be using
this Flickr group to post photos of our work this summer
! Join us and introduce yourself and your blog in the discussion forum.
Closer to June 1st, we'll open a thread for our summer essentials plans. It's a great way to get inspiration for projects!
Note: This sew-along will accommodate your other sew-alongs and challenges nicely. Later this week, I'll be posting about inspiring approaches to sew-alongs that you can use in the Summer Essentials as well.
And stay tuned for a jewelry giveaway!
To sewing, to summer.