Hello! It has been a sewing-binge of a weekend. I'll likely have to slow down with a busy week ahead, but it was great to finish my first summer essential: an ivory blouse with a 50s scoop neckline, based on the first pattern below. Photos soon to come! Made a swayback adjustment and chopped off the sleeves on my
sweatshirt dress
, and I also had a sewing-geek out party with my gal-pal
Jessica
and a new friend (bobbins + wine + chocolate!), where I traced out the
Colette Rooibos
for tissue fitting.
Yesterday I took a lingerie class, where I nearly finished a gold habotai silk lace-trimmed slip using
Folkwear 219: Intimacies
, based on the lingerie styles of the 1920s and 1930s. It was my first time working with silk, border lace, and french seams. Totally luxurious, perfect as a neutral slip under light colored summer dresses! It may just send me down the path of sewing up pretty underthings, so what better time than now to announce my summer essentials list? Though this may change as the summer goes along, it should serve as a beacon, the things I really want to get to.
You'll see, my focus this summer is on
using basic blocks
and fabrics in my stash. My color palette from my
inspiration board
:
The Plan:
TEES, TUNICS & BLOUSES
Bodice Block + Vintage Simplicity 3263: Alter neckline to 50s scoop neckline, add peter pan collar (Version 3)
Fabric:
Black linen, thrifted Eileen Fisher Tunic
This way I get the fit of the bodice block with the look of the vintage pattern using something in my stash. I've already created Version 4 using a thrifted ivory blouse. I assure you, my waist does not look as teeny-weeny as the pattern photo.
---
CLAM DIGGERS & CO.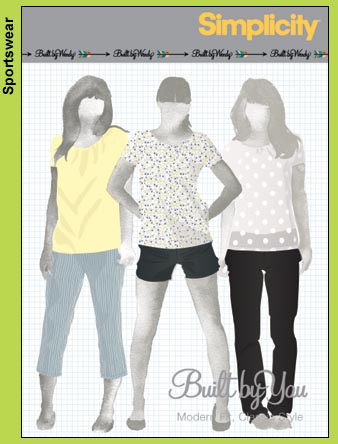 Trousers/Shorts Block + Simplicity 3580 (Built By Wendy Pattern): Alter block to include slant pockets, front fly and belt loops
Fabric:
Stretch navy denim and/or black canvas, both in stash
Again, this way I get the fit I want with the details I want
---
SWEET & SASSY SKIRTS
As of now non-existent Skirt Block, based on this skirt handmade by my grandmother in the 60s.
I wore this the other day and realized it fit me near perfect. Just the right sweep and length. I'll be making a pattern out it using
Patternmaking for a Perfect Fit

by Steffani Lincecum
.
Fabric:
Black/Purple/White Michael Kors tunic in linen and/or Red twill
I'm excited about this, making patterns from clothes you already know work!
---
THE SUNDRESSES
The Knit Dress
Dress block from Built by Wendy Homestretch, altered to look like the Banana Republic one at left (-ish), v-neck, three tiers, possible a center front seam and belt
Fabric:
Lime green jersey
These are exposed raw edges on the skirt -- does any one know if there's a way to cut jersey so it doesn't curl? Perhaps on the bias?
---
The Mini Dress
Colette Rooibos
Fabric: Dark Denim
Finally! After longing for this pattern, finally making it. Will leave out mini collar. Use of denim inspired by a
gorgeous dress from Hetterson
.
---
The Full-skirted Dress
Vintage Simplicity 4491 (1960s)
Fabric:
Options! A black/navy rayon dress, thrifted, with a floral border print. Purple Japanese cotton print. Red and white striped shirting-weight fabric.
This pattern is a recent purchase because, like the "blocks" above these are shapes I can foresee using over and over. Fitted blouse with sleeve or sleeveless, full or straight skirt.
---
THOSE SUMMER NIGHTS
Sew Serendipity Jacket, something between the two pictured. Hip-length with buttons, no collar
Fabric:
My mom's old chartreuse tablecloth
This book was a recent gift from a friend. I'll likely finish with Hong Kong seams to keep it lightweight.
Also, inspired by
Casey's post on Tilly's blog
, I'm trying to stay organized this summer! A spreadsheet of the above projects. I need to fill in my notions and get me to a fabric store.
How's your summer essentials going so far?