Pattern:
Simplicity 3692 Built By Wendy Pattern
Type of Garment
: Knit Top
Fabric Used:
Two of the boy's old work T-shirts, dark green interlock. One might've sufficed if I didn't have to navigate the company logo.
Size:
On the pattern, I would've been a size 12. But other reviews have noted how big this is, so I compared it to my TNT crewneck tee pattern (BBW Homestretch XS) and it most closely approximated a 4, so I cut that size. I also shortened the pattern by 2 inches.
Pattern alterations or any design changes you made:
Because I was worried about what the smaller size might do to the armscye, I sewed the shoulder seams and yoke seams at 1/4 inch, to lengthen the armscye. It still felt awfully wide and long, so I increased the side seams to a 1 inch seam allowance. I ended up shaving off another inch on each side, starting with the bottom, to make it less A-line and more straight. 2-inch hem.
Instructions:
Perfect. This was such an easy project to put together.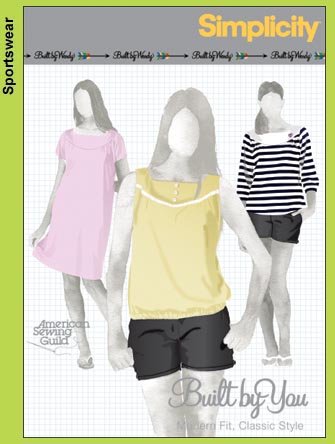 Did it meet expectations?
Yes! I've been taking on such big, complicated projects lately that it was wonderful to work with a fast and easy project that looks good. The yoke and the square neckline is what makes this pattern really special. Sort of an updated tee.
What did you particularly like or dislike about the pattern?
Like the clean finish on the neckline because of the yoke. I didn't like the shape of the pattern at the side seams, but that's easily fixed.
Would you sew it again? Would you recommend it to others?
Yes. I've seen some great versions out there — with sleeves, dress-length, contrast yoke. Some folks have even done this in a woven. I'm particularly interested in how this might look with a fabric with some drape.
And the pattern reminds me of two favorite pieces in my closet — a knit dress and top from Banana Republic in a heavy knit with a flutter sleeve and an embroidered yoke. They've got this tailored bohemian vibe to them that I love. This pattern would be perfect if I wanted to make a similar dress/top. All I would have to do is trace the curved side seams from the BR dress/top onto the BBW pattern and add seam allowances.
Any new techniques?
No.
Conclusion:
A nice, simple addition to both my closet and my pattern arsenal.