I recently said that my favorite dresses look a lot like the underwear of yesteryear: simple silhouettes, sleeveless and strappy. Great for warm weather and easy to layer in cold. So I took that hypothesis for a spin with Simplicity 1144, a 1940s slip pattern.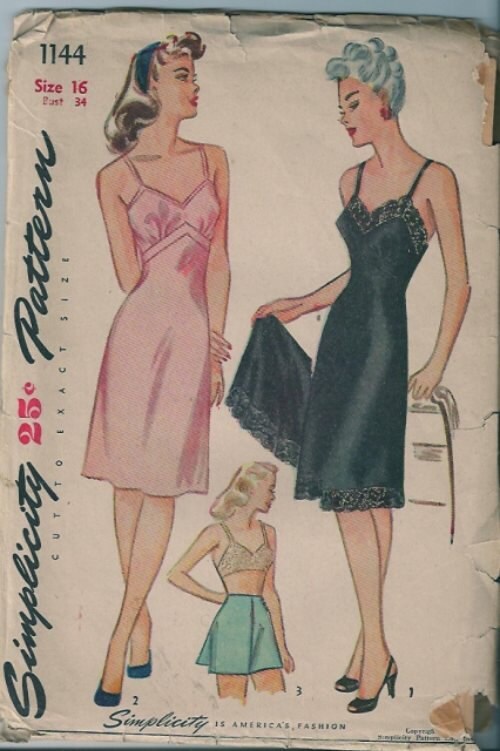 I also chose this pattern because I wanted to explore more garments on the bias. For a gal who largely wears simple clothes, a bias-cut garment makes me feel like I'm not just wearing something utilitarian, but luxurious as well. I can pull it over my head and it glides over the body. It feels so feminine, so carefree.
Yesterday I took my new slip dress for a maiden voyage on a stunning, stunning day in the East Bay. We ate Vietnamese sandwiches at the beach in Alameda. Shoulders and sunlight and sand. Life doesn't get better for me.
Purple again?? I know, I know. What can I say? Purple and green fabric is abundant at the thrift stores. But it was a great way to use some stash fabric and explore fabrics with drape.
Pattern: Simplicity 1144, 1940s, Full Slip and Tap Panties

Fabric Used: From the stash. Purple thrifted polyester crepe(?) It's got a nubby appearance, twisted yarns and a lovely drape.

Size: I was a perfect 16 in 1940s sizing (34-28-37), which is partly why I want to try patterns from that era. Since then a 34-sized bust got a noticeably smaller waist.

Pattern alterations or any design changes you made: Small tuck on bodice for small bust, shortened back piece for sway back, widened straps from 1/4 to 3/4 inch, shortened straps by 10 (!) inches, skirt by 3.5 inches + 2 inch hem. 3/4 inch side seam allowances, as provided in the pattern. Drafted front and back neckline facing.

Instructions: Spare. I recently bought the Colette Oolong, so I used some of the instructions on sewing bias fabrics from that pattern, i.e. sewing the long vertical edges with a narrow zigzag, letting the fabric hang both before sewing and before hemming.

What did you particularly like or dislike about the pattern?
It meets all of the criteria of what I'm looking for: A sleeveless, easy dress that can be dressed up or down. I love that I can pull it over my head and I love love love the way the bias fabric just skims over the body. The wider straps and sweetheart neckline, the gathers at the bust. Even though it's not what I would consider a typical waist-defining dress, I definitely feel curvier in it.
That said, I did battle with the front inset that is supposed to be decidedly pointier than it is in my version. I know part of it is the fabric -- it stretched A LOT on the bias and I also had a hard time gathering the bust evenly.
Instead of sewing the front inset right sides together, you press in the seam allowances on the front inset and then topstitch it atop the bodice and skirt pieces. For someone who HATES topstitching, this was really frustrating. I did this three times, first attempting to understand the instructions, then rebelling and doing it my own way and finally giving in and going back to the instructions. It all amounts to a sort of wonky but good enough inset. Live and learn.
Beyond the inset, everything goes together like a breeze. Five pattern pieces, plus the facings, easy peasy.

Would you sew it again? Would you recommend it to others?

Absolutely. I know the inset will be easier next time around and I adore the fit and feel of this slip dress. I also think it's simple enough to make in multiple versions without folks realizing you're wearing the same dress over and over. Think: small polka dots or a loud floral print. A slightly stiffer fabric like voile or an even drapier one like rayon. You could adapt the neckline for a square neck or scoop.
What about you? Do you like sewing/wearing fabrics with drape or garments sewn on the bias?