Man, do we have ideas about our stuff. I was thinking this as I was reading through the comments on Coletterie's post, "
How Much Stuff Is Too Much
?" I've been thrilled by these posts on Coletterie and elsewhere in the blogosphere — it aligns with where I'm trying to go: Living Big Lightly.
But the problem is, I fear I have the zeal of the newly converted. I really struggle with it, but I'm all in regardless. I want to talk incessantly about the joy of living with less and when I'm not talking about it, I want to get rid of more stuff. (
I likewise am afraid I'll turn into an irritable and judgy misanthrope
.)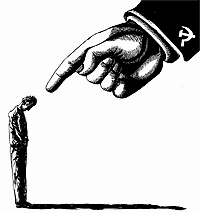 What I don't want is to be peddling guilt, for myself or others. Guilt over how much stuff we have, how many clothes, how much fabric, and so forth. I overuse the term (hey, I grew up in a Catholic household — guilt was currency, among other more positive things, like strength and self-sacrifice and love).
I also had the zeal of the newly converted to sewing when I started this blog and going through my blog roll regularly is something I still love. But there's a change occurring in me — I used to relish the world inside my closet and now I'm seeking a wardrobe to equip me for the world outside of it.
For starters, I am going to stop using the word "guilt" or "guilty" and I want y'all to know that I'm not trying to make you feel guilty for your worldly belongings. I think this is a deeply personal journey and there's no magical number of stuff we should or shouldn't have.
In fact, for me this really isn't about
stuff
. Grappling with my stuff is just a way to grapple with who I was when I acquired these objects—am I still that person? Are those still my aspirations? Does this still suit or serve me?
What I Want More of: Laughter and Movement.
The gift from a lost friendship goes because it fills me with bad juju and loss. The harmonica my grandfather bought for me at the PX is proudly displayed on the mantel because it reminds me of him and the incredible role he played in my life.
See? It's not the stuff. It's all the emotional and psychological attachments to the stuff. It's about how I
feel
with the stuff.
So when I say I want to live with less, that means
I want less
:
Confusion and indecision
Reminders of who I once wanted to be and didn't become
Objects that carry bad juju
Time cleaning
Longing
Things that will likely not be used in the next year
More importantly,
I want more
:
Time
Clarity and confidence
Experiences
Flexibility
Openness
Gratitude
Things that fill me with inspiration and wonder
Going through my stuff is just my way through, as flawed as it may be. But as someone who struggles with tidiness, "less time cleaning" is motivation enough (hallelujah!).
You'll have your own ways through and I'd love to hear about them. I think once I comb my home and feel like the objects I own are a reflection of where I'm at, I'll settle down on this hyper-decluttering stuff. I'm in the process of shedding old skins and the
stuff
is just the evidence, but thank you for bearing with me on this journey.
In more fun news: Dresses on the horizon! And knits! (Guilt-free :)