I am so excited! This sew-along is going to be fun fun fun.
I've already been so touched by the interest in joining and also, that many of you already know what your special garment might be. Nothing like a little push to get you to where you want to go, no? I know I need it. Most of all, I can't wait to see what you come up with. :)
Also, I wanted to send a shout-out to my amazing co-hosts for their generosity. Add to my giveaway prize—an indie sewing pattern of your choice—
2.5 yards or summery cool seerscuker from Sarah
and
1.5 meters of fabulous flowery blue crepe plus 1.5m off-white lining fabric from Alessa
. One great garment and the possibility of winning THREE great prizes.
Now on to the details:
If you've got a blog, grab this badge designed by Sarah.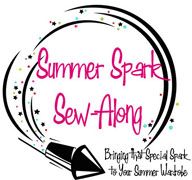 FLICKR GROUP
And then hop on over to our
Flickr group
(thanks, Alessa!), the sew-along's virtual home until July 4. Feel free to post any photos, but here's a few ideas:
The pattern photo
I know some of you are self-drafting, but those who are using commercial/indie patterns, post an image -- it might help folks who are still deciding what their special garment might be.
Your muslin
I rarely muslin, but since I'm taking my time with this garment and it's a very simple one (a knit dress), I'll whip up a muslin.
If you're making a muslin, share your progress with us! Also, feel free to pose any fitting/opinion questions to the group, and we'll do our best to help you out. :)
Your finished garment
Otherwise known as your entry for the fab prizes and inspiration for all.
Also, no pressure: You've got all month. Work at your own pace!
I think I might work leisurely, too. Cut the muslin this week and buy the fashion fabric. Make the muslin next week and the final garment the week after. Then there's an extra week to account for laziness/craziness, whatever it may be.
In the meantime, thank you and happy sewing x