Continuing along my red mini-wardrobe, I tackled the knits last week: the red tank and the fuschia top. The tank was a fail—the knit was too lightweight and, while I attempted perfect binding of neckline and armholes, I wasn't even in the neighborhood. Oh well. Onward.
I really enjoyed all your comments on the
copycat
post. Many talked about what you draft vs. what you buy, pattern-wise, and the fuschia top is an example of something I tried to draft two years ago and failed. So I went out and bought an equivalent: Kwik Sew 3763.
What I was after: A knit top with a v-neck that draped the shoulder. I'd read that women should use clothing to give the illusion of an hourglass, and thus balanced, shape. One suggestion for a rectangular gal was to bring attention to the shoulders, so that the waist looks smaller in comparison.
I'm not sure I buy that anymore—much preferring cami-like tops, hourglass be damned—but saving me from sewing sleeves or binding armholes was attractive.
Now that it's complete, I sort of feel like a linebacker in this thing and I really don't think it's doing anything for my "curves."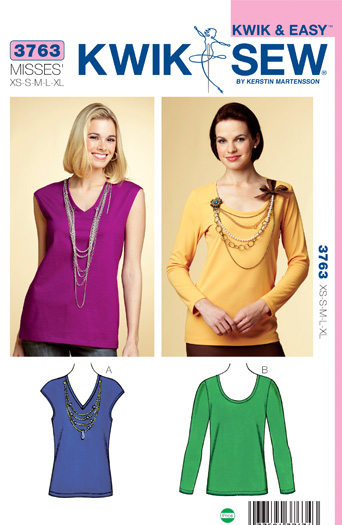 Final thoughts
I do love this color
First Kwik Sew pattern and first v-neck I didn't royally screw up!
Knit weight is really starting to matter to me -- I like a heavier, more stable knit. Compared to the red knit, this was a dream.
The sizing was really off for me -- I had to put a 1-1/2 inch dart in the front armscye and take in the sideseams at the bust an additional 7/8 and taper down to the waist. And the shoulder seam seems (say that 10 times fast!) to extend much more than on the model.
Make it again? Probably not. But I'll give it a chance in Me-Made-May
Up next: The red beret.