I've always had preppy leanings, and had a brief romance with J. Crew (or at least, their catalog). Then I discovered Madewell, the seemingly younger sister to J. Crew. You know, the one that has more fun and funk. More whimsy. Less Nantucket, more city.
At the end of last summer, I was dying in the heat and fell in love with Madewell's Softshade Dress.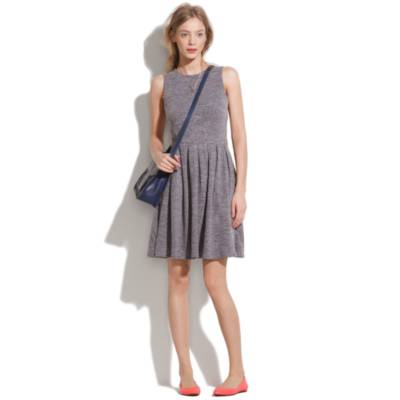 This is really a fall dress, but it inspired my lightweight summer dress. Weary about heavy pleats on my rectangular frame, I made a half-circle skirt. This was adapted using the knit bodice and skirt blocks in Sew U Homestretch. Neckline and arms finished in that snazzy facing-bodice-turn-way I learned in sewing the Colette Rooibos.
Simple, simple. Sometimes I think the silhouette feels too formal, especially when paired with a cute little cardigan (I'm having vintage fatigue), but in warm weather it's surprisingly versatile. It can be accessorized more formally (short cardigan with a scarf, of course!), or throw a long cardigan on, and it's a perfect lazy Sunday.